Monday 16 July 2018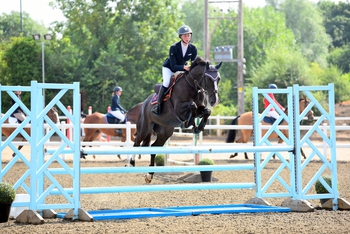 Chloe Reynolds claimed a commanding victory in the Nupafeed Supplements Senior Discovery Second Round at Summerhouse Equestrian Centre on Michael McKinlay's Darkside Desire.
Fifty-one initially contended over course-designer Steve Williams' 13-fence track in hope of securing a finalist place in the Nupafeed Supplements Senior Discovery Championship at the British Showjumping National Championships in August. Eighteen provided first round clears to go forward to round two, these further whittled down to 12 for the final jump-off.
Six combinations achieved the desired treble clear to claim qualification to the final, but Chloe from Bridgwater, Somerset was by far the quickest. She used every conceivable shortcut to race to victory on the L'Ark De Triomphe 5 year-old gelding Darkside Desire to win by an incredible 6.80 seconds.
Summerhouse Equestrian Centre – Saturday 14th July 2018
Nupafeed Supplements Senior Discovery Second Round


1st Chloe Reynolds & Darkside Desire – 0/0/0 – 31.38 seconds


2nd Nicholas Edwards & Renkum Muriel – 0/0/0 – 38.18 seconds


3rd Emma Slater & Capitoline Z – 0/0/0 – 39.30 seconds


4th Emma Slater & Psalm – 0/0/0 – 39.58 seconds


5th Ryan Page & Dstod Mondello – 0/0/0 – 41.84 seconds


6th Amelia Warner & Calcourt Dorado – 0/0/0 – 44.04 seconds
NB: Qualifications will be updated pending official grading of results.
The British Showjumping National Championships 2018 will take place during the 7th – 12th August at the National Agricultural and Exhibition Centre (NAEC), Stoneleigh Park, Warwickshire.
Image Credit: Jasmine Punter Photography
Nupafeed Supplements:


Imported from Germany, Nupafeed supplements combine advanced scientific research with the highest quality ingredients to make their products truly unique. The Nupafeed range includes: the highly acclaimed MAH® Liquid and Syringes to calm and reduce stress, Flex GLM (Green Lipped Mussel) joint supplement and Staying Power to aid energy, strength and stamina. Used by top professionals, including John Whitaker and Philip Miller, Nupafeed products are permitted for competition and are available by mail order. Nupafeed aims are to ensure an unbeatable quality of product, supplied with friendly and honest advice. The team have experience in conversing with customers who represent all levels of horse ownership, in every discipline. For more information, visit www.nupafeed.co.uk. 
Source link
>